Farming
Farming
Sourcing
We collaborate with local farmers close to our plants to minimize milk transportation & support the economic development of the production regions.
Farms local to our plants in the US provide the milk that makes Mini Babybel® cheese.
Farmers local to our plants collect milk for Mini Babybel® every day or two.
When it comes to quality, we act fast!
Our milk for Mini Babybel® can be traced from the factory to the farm in under 4 hours.
The distance from farms to our plants in Brookings, SD or Leitchfield, KY is an average of 350 miles or less!
Good practices
Dairy farmers work hard. Here are a few ways we champion good practices to support them.
WE'RE SUPPORTING SUSTAINABLE FARMING PRACTICES. LEARN MORE.
OUR PARTNERS ADHERE TO FARM WORKFORCE STANDARDS. SEE MORE.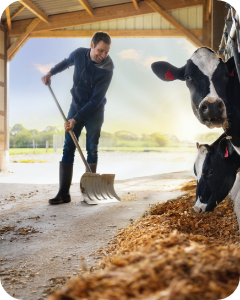 ALL FEED USED ON US DAIRY FARMS IS SOURCED LOCALLY.
In the US, Mini Babybel® only sources from farms that adhere to The National Dairy Farmers Assuring Responsible Management program (FARM), assuring the highest standards in Animal Welfare. Learn more.
RBST* FOR OUR COWS? NO WAY. GROWTH HORMONES? NEVER.
US FARMERS OFFER NUTRITIOUS FEED THAT INCLUDES HAY, CORN & SOY.
OUR PARTNERS MUST ADHERE TO FARM ANIMAL CARE STANDARDS.
OUR PARTNERS ADHERE TO FARM REGULATED GUIDELINES FOR STALL SIZES.
*No significant difference has been shown between milk derived from rBSt-treated and non-rBST treated cows.
Substainability
Substainability
Packaging
The goodness we wrap our delicious snacks with should match the goodness inside every bite! That's why we're committed to doing our best, both inside and out.
We're working on compostable packaging and inks that will allow for a home-compostable wrapper ! Learn more about home-composting.
Our red wax helps protect and preserve our cheese.
We use 100% recycled or certified cardboard to ship our product, all of which is certified by the Forest Stewardship Council (FSC).
Babybel® Plus+ is offered in a 80% paper content bag to reduce plastic use.
Reduce & Reuse
Across our entire business, we are working to reduce the impact our products and processes
have on the environment.
While we work to provide 100% recyclable or compostable packaging, we'll introduce an upcycling program soon so our packaging can be reused. Net and all!
No quality cheese will go to waste on our watch! Most of our
leftover cheese gets used for other (delicious) products.
Bel Brands USA partnered with How2Recycle® to help improve
packaging for the US recycling system and offer instructions for
how to recycle our products, as applicable.
No leftovers here! Portions for one can help reduce food waste.
Nutrition
JOIN THE GOODNESS
Through the power of Mini Babybel® cheese, a more delicious and satisfying world is just a peel away.
Taste buds aren't the only part of your body that loves Mini Babybel®. This 100% real cheese is a delicious snack offering the goodness of dairy. Mini Babybel® will please the whole family and keep them satisfied, all in one single portion. Perfect at home or on the go when hunger strikes.
DISCOVER WHAT MAKES MINI
BABYBEL® A DELICIOUS SNACK
*No significant difference has been shown between milk derived from rBST-treated and non-rBST-treated cows
UNWRAP OUR CHEESEMAKING SECRETS
So here's a bit about how we make our Mini Babybel® Original taste so good with only 4 simple cheese ingredients!
1
Milking the cow
Our cheese is made with cow's milk that comes from carefully chosen farms.
2
Transforming our milk into cheese
Our milk is then pasteurized and transformed into curd. Then we press the curd into individual molds to give our mini cheese its special shape.
3
Time for a bath
The future Mini Babybel® takes a dive into salted water (called brine) that will preserve the cheese and develop its unique flavor.
4
Getting dressed!
Each cheese is coated in wax to keep its freshness before its famous red wrapper adds the finishing touch.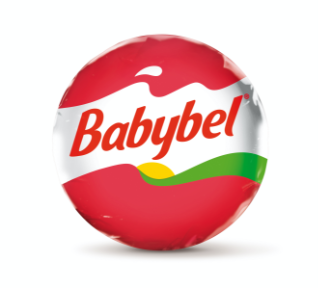 And there you go, your favorite snack is ready to enjoy!
SAY HELLO TO
ANOTHER WAY TO SNACK
Snacking can be an enjoyable moment to satisfy cravings between meals with a combination of convenient and tasty foods.

1 serving of whole grains
1 fruit/vegetable or some nuts
GOODNESS- INSPIRED
SNACKING
Give mindful snacking a try with one Mini Babybel® paired with fresh orange juice and a slice of whole grain bread.
Give mindful snacking a try with one Mini Babybel® paired with a glass of water and a handful of nuts and fruit.
Give mindful snacking a try with one Mini Babybel® paired with water and an apple.
WHEN IT COMES TO SNACKING,
THIS IS HOW WE ROLL
Have a playful and delicious snacking moment with these Mini Babybel® creations, keeping you satisfied between meals, after sports practice or when you need a pick-me-up.
Striving for goodness
There's good behind our goodness. Behind every bite of Babybel®, there's a team working hard to provide the best for you, each other and the planet.